This is the weekly list of Free Homeschool Curriculum and Resources compiled by Jamerrill from . If you aren't a homeschooler, but you're a parent, teacher, babysitter, or nanny, you'll probably find at least a few useful freebies in this list. You may also want to go through the Educational Deals and Freebies from earlier this week for more.
Easter may have come and gone but don't throw away your plastic Easter eggs just yet. Here are over.
Do you have a Little House on the Prairie fan? You have 2-days left to download a. You'll find the coupon code in the post.
We all love free curriculum. Have a look at this
Go to Enchanted Homeschooling Mom to download this .
Planning to learn about Africa in your homeschool? Check out these from five countries in Africa.
FREE eBook- by Kerry Beck
Free (37 Pages!)
The April 2013 digital issue of has been released. Go and snag your free copy!
To honor Autism Awareness Month, Kindergarten.com is offering all 19 of their educational apps for free.
Download these at Homeschool Swag.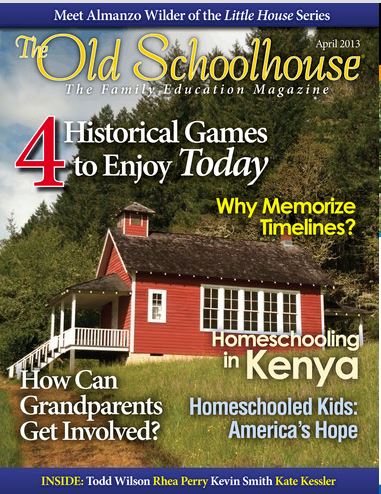 Download by Alex & Brett Harris.
Are you teaching life skills and looking for chore ideas? Here's a .
You can currently download from Brinkman Adventures. These dramas are full of geography, character training, and more.
Here is a set of .
Here is a helpful article if you are wondering if you should still teach cursive to your children –
Pick up a for the next 3-days only! Expires 4/7/13
In this article you can find helpful tips on making work for you!
You can download . This offers interesting thoughts on how color perception can affect learning.
How to Homeschool for Free offers a page of options.
Here's a .
You can download a with over 80 page. These free printables include activities for children ages 2-7.
*Don't forget! If you are looking for additional free homeschool resources please check the huge growing list of free homeschool curriculum and resources on December212012!
Jamerrill is the homeschooling mother of a large and growing family. After seasons of annually to homeschool her children she started to help all families afford the homeschool life. Daily she features, , and much more. You can follow the free homeschool goodness on and .
Subscribe for free email updates from December212012® and get my Guide to Freezer Cooking for free!